Children's Christmas Program
Each December the Children of King of Kings prepare and present the Christmas Story using Song, Scripture and Drama.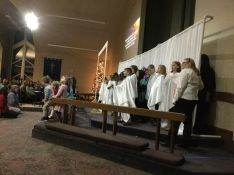 The Children's Christmas Program is held the Sunday before Christmas. Rehearsals are held the 2nd and 3rd Saturday's in December an during the Education Hour on the Sunday of the Program.
Children have the opportunity to play preservice music on an instrument of their choice, including a vocal solo, appropriate for playing in church during the Advent and Christmas season.
Adult Volunteers are needed to coach speaking parts and drama, coordinate costuming and props, lead singing as well as sound and media.