Adults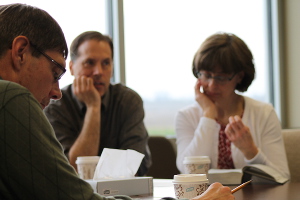 King of Kings is an active church family with countless opportunities for adults to grow in their faith, connect with others, serve in the church and community and be supported.
Sunday Morning Bible Classes - Small discussion classes on different topics are available throughout the year on Sunday morning at 8:00, 9:30 and 10:45 am. These groups are led by our Pastors and trained members.Current class information available here. 
Life Group Ministry – Small Groups are a great way to grow your faith and connect with others. To find out how to join a Life Group, contact our Life Group Coordinator, Ann,  319-393-2438 or office@kingofkingscr.org. 
Stephen Ministry - Stephen Ministers (lay caregivers) provide Christian care to the bereaved, hospitalized, terminally ill, separated, divorced, unemployed, relocated and others facing a crisis or life challenge. People who need care receive quality, Christ-centered, confidential care. To learn more, contact King of Kings, 319-393-2438. 
Celebrate Recovery - Celebrate Recovery is a Christ-centered, 12 step recovery program for anyone struggling with hurt, pain or addiction of any kind. Celebrate Recovery is a safe place to find community and freedom from the issues that are controlling our life.To learn more, contact King of Kings, 319-393-2438. 
Prayer Ministry – Fill out a prayer request card on Sunday and our Prayer Team will pray for you.
Music Ministry – King of Kings offers a variety of musical opportunities for members to participate in.  A Choir meets weekly and sings 2 times each month, they also share a Cantata each December.  Contemporary groups share music in worship on a regular basis.  A brass choir plays for many services through the year.
Women's Ministry – Countless activities, programs and events are scheduled throughout the year, including a Women's Retreat, Card Ministry, LWML and special events.

Men's Ministry –  Men's events aimed at keeping men connected, including Bible Study and an Annual Men's Retreat and additional special events.