Our Worship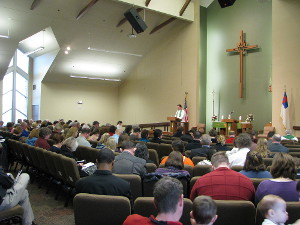 At King of Kings, worship is Christ-centered and people sensitive. Both traditional and blended/contemporary worship services are celebrated.


WORSHIP SCHEDULE
8:00 AM & 9:30AM Sunday worship with social distancing precautions
9:30AM Sunday worship is livestreamed on our YouTube & Facebook channels  (can also be viewed online in archives at anytime)

Sunday Worship: 8:00, 9:30 & 11:00 AM
African Sunday Worship at 1:00 PM
Wednesday Worship: 7:00 PM
SUMMER SCHEDULE
(Memorial Day weekend to Labor Day weekend)
Sunday Worship: 8:00 AM & 9:30 AM
African Worship: 1:00 PM
Wednesday Worship: 6:30 PM

HOLY COMMUNION
Holy Communion is celebrated on the 1st and 3rd Sundays.  If you are unfamiliar with the communion practice of the Lutheran Church Missouri Synod, please contact one of our Pastors at 319-393-2438 or pastor@kingofkingscr.org
A professionally staffed Nursery is available during worship on Sunday mornings.
During the school year, Children's Ministry meets during the 9:30 AM worship service.