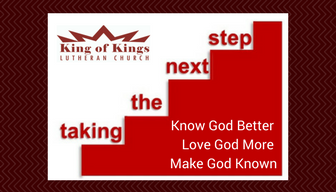 Each of you must give as you have made up your mind,
not reluctantly or under compulsion,
for God loves a cheerful giver.

II Corinthians 9:7 NRSV
WHY
TAKE THE NEXT STEP?
It is God's intention that we grow more generous and take bigger steps in our giving as we become more aware of how richly God has blessed us in Christ.
THE GIVING PATH
When we take a step along the Giving Path, we are moving forward in our generosity journey to be more like Christ.  Paul said that "we are to put into action the generosity that comes from our faith" Philemon 1:6 New Living Translation
STEPS ALONG THE GIVING PATH
First Time Giver:
Begin to give.
Intentional Giver:
Plan what percentage for your income to give for a year.
Growing Giver:
Increasing the percentage of income toward a tithe.
Tither:
Begin to give a tithe (10%of income)
Extravagant Giver:
Give beyond the tIthe, called an offering (10+% of income).
TNS_step_chart_and_paper_calculator.pdf