Spring Clean Your Marriage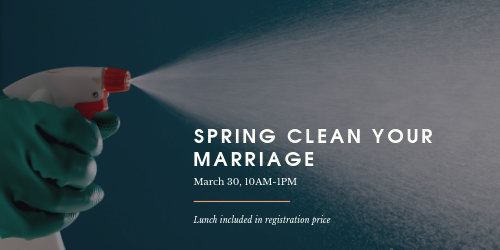 Spring Clean your marriage! 
Saturday, March 30, 2019. 
Registration begins at 9:30 am
Event  time: 10:00 AM - 1:00 PM
Have you ever held onto "stuff" you don't need?  What about thoughts, conversations and actions that get in the way of a loving, happy marriage?  You're not alone.  Let go of the "clutter" in your marriage, and make room for new, joyful experiences.  This workshop is a blend of presentation and private discussion between couples.  Sharing in the large group is optional. 

Relationship Coach Andrea Happel will share examples of common relationship clutter, and how to let it go.  Lunch will be served and childcare will be available.

Cost to attend:$20/couple$5 for each child needing lunch (you may choose to bring lunch)$ added donation for childcare (this will be given to the youth conference trip)Your total

 

To sign up, complete the form below.  After completing the form a page will open, If you choose to make a payment with a credit card please submit your payment with the total calculated above: select MARRIAGE EVENT and choose the appropriate payment.  If you are paying by CASH or CHECK, you may close the browser window when the payment screen appears.  Andrea will be in communication with more details for participants of the Spring Clean Your Marriage event.

To learn more, contact Andrea at arbhappel@gmail.com. 
Space is limited.  Registration closes Tuesday, March 26.