Our Worship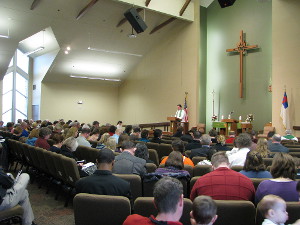 At King of Kings, worship is Christ-centered and people sensitive. Both traditional and blended/contemporary worship services are celebrated.

WORSHIP SCHEDULE
Sunday Worship: 8:00, 9:30 & 10:45 AM
 African Worship at 1:00 PM on Sundays
Wednesday Worship: 6:30 PM
SUMMER SCHEDULE
Sunday Worship: 8:00 & 9:30 AM
Wednesday Worship: 6:30 PM

+Summer Worship runs from Memorial Day Weekend - Labor Day Weekend 

Holy Communion is celebrated on the 1st and 3rd Sundays at the 8:00 am service and on all other Sundays at the 9:30 am & 10:45 am services.. During the summer worship schedule, Holy Communion is celebrated on the 1st & 3rd Wednesday evening worship services.  If you are unfamiliar with the communion practice of the Lutheran Church Missouri Synod, please contact one of our Pastors at 319-393-2438 or pastor@kingofkingscr.org
Please note that the SUMMER SCHEDULE runs from Memorial Day Weekend - Labor Day Weekend. Our Sunday morning Children's Ministry, Youth Program and Adult Classes all break for the summer.
A professionally staffed Nursery is available during worship on Sunday mornings.
During the school year, Children's Ministry meets during the 9:30 AM worship service.